Cousins, Cook Participate in NFL Pro Bowl Skills…
2 min read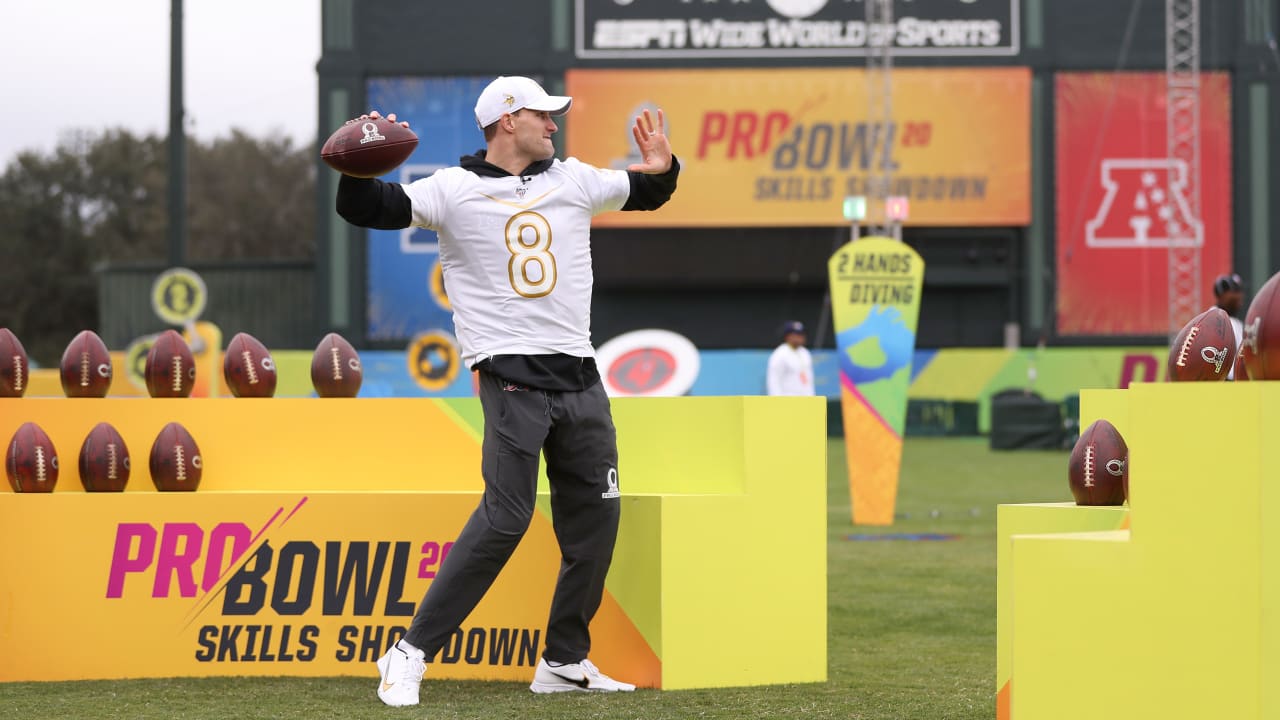 Cousins impressed the crowd with 18 points, which was more than the AFC's 17 total points scored. He was followed by Packers receiver Davante Adams, who added six points, and then Wilson racked up 19.
The Vikings quarterback complimented NFC North-rival Adams.
"He's in our division, and after watching how he threw it, I'll have to let our coaches know, 'Hey, be ready for him on a reverse pass,' " Cousins said.
Cousins' final event was Best Hands, in which he was paired with former Vikings receiver Cordarrelle Patterson. The duo competed in a timed relay race to catch a series of passes at a sequence of downfield targets as quickly as possible. Designated targets required a specific style of catch – diving, one-handed, over the shoulder – which had to be executed before the receiver could move on to the next target.
A couple of dropped passes put the NFC behind the clock, and the AFC ended up winning the challenge.
Vikings running back Dalvin Cook also took part in the Skills Showdown. The first-time Pro Bowler participated in the Gridiron Gauntlet, a football-themed relay obstacle course, as well as the final challenge, Epic Pro Bowl Dodgeball.
The dodgeball event included all players from both teams.
Cousins, Cook, Wilson and Adams were joined on the NFC squad by Shaquil Barrett (Bucs), Cam Jordan (Saints), Jaylon Smith (Cowboys), Darius Slay (Lions), Eddie Jackson and Patterson (Bears).
At one point early in the dodgeball game, Cook turned to the stands and hyped the crowd with a Cousins-esque, "You like that!?"
https://www.vikings.com/news/cousins-cook-participate-in-nfl-pro-bowl-skills-showdown