Game Preview: Vikings at Seahawks
4 min read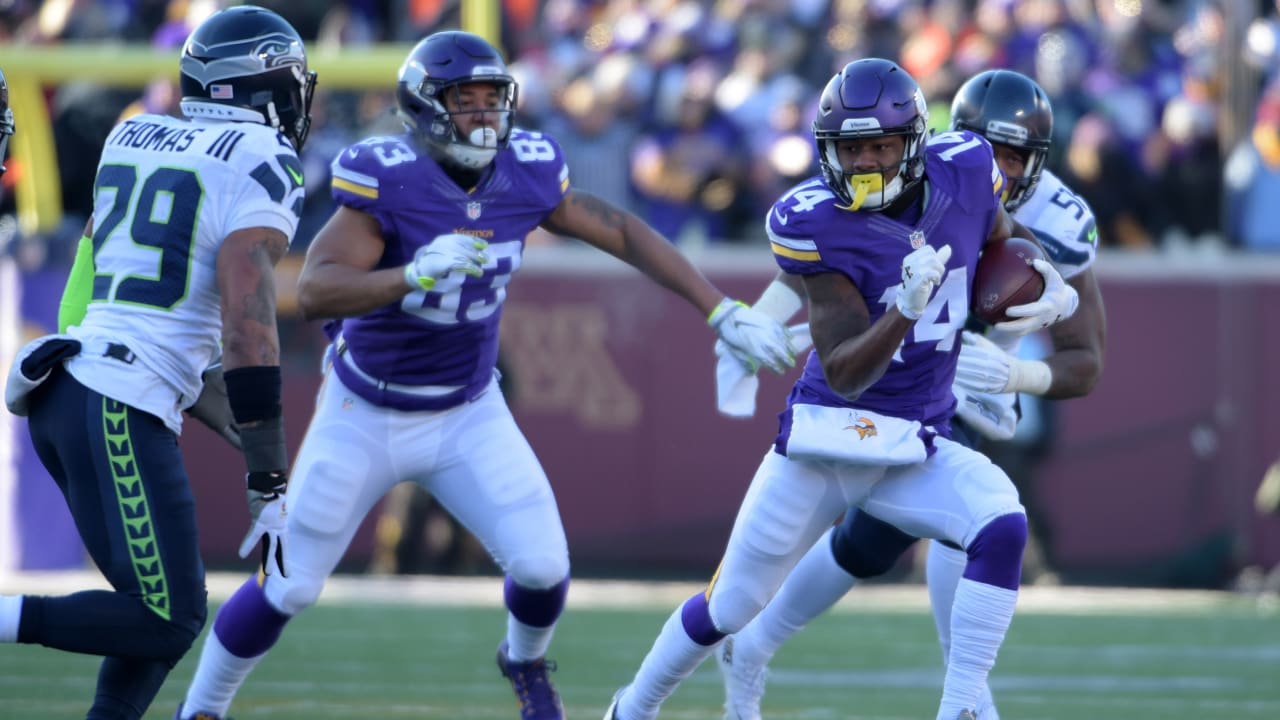 Play-by-Play: Joe Tessitore
Analyst: Booger McFarland
Sideline Reporter: Lisa Salters
KFAN (100.3-FM/KTLK 1130-AM in Minneapolis/St. Paul)
Sideline Reporters: Greg Coleman & Ben Leber
Radio Pre-game Show: Mike Mussman | 5:30 p.m. (CT)
KFAN and KTLK serve as the flagship stations for the five-state Vikings Radio Network.
Play-by-Play: Kevin Harlan
Sideline Reporter: Ryan Harris
Sirius: MIN 81 or Streaming 819; SEA 83 or Streaming 828
XM: MIN 225 or Streaming 819; SEA 226 Streaming 828; National 88 or Streaming 88; Spanish Streaming 970
Minnesota held Seattle QB Russell Wilson to a career-low 72 yards on 10-of-20 passing last year.
Minnesota has opened a season 8-3 for the fourth time in team history (1992, 1997, 2015 and 2019). The team won its division in 1992 and 2015. It lost five in a row and finished in fourth place in 1997 but made the postseason as a Wild Card team.
Mike Zimmer is 6-6 against NFC West teams as head coach of the Vikings.
The Vikings offense has allowed only 22 sacks in 2019. Minnesota suffered 40 in 2018.
QB Kirk Cousins has thrown 51 touchdown passes in 27 games with Minnesota, making him the fastest Vikings QB to throw 50 or more TDs.
Cousins has thrown for 7,054 yards since joining the Vikings. He passed Brett Favre (6,711) in Week 10 for the seventh-most in team history.
Since Week 5, the Vikings offense has averaged 409.5 yards per game, the third-most in the NFL in that span.
Kyle Rudolph (415 receptions) passed Jake Reed (413) in Week 11 for fifth place on Minnesota's all-time list. Anthony Carter is fourth all-time with 478.
The Vikings defense has allowed the fewest rushing touchdowns in the NFL this season (three).
Danielle Hunter is 1.5 sacks from becoming the youngest player in NFL history to total 50.
According to league stats, Eric Kendricks has a career-high 12 pass breakups on the season, which is three more than any other linebacker this season.
VIKINGS-SEAHAWKS CONNNECTIONS
Vikings DT Shamar Stephen played for the Seahawks in 2018.
Seahawks Head Coach Pete Carroll was DBs coach for the Vikings from 1985-89.
Minnesota defensive backs coach Jerry Gray held the same role in Seattle in 2010.
Seahawks FB Nick Bellore is from St. Paul, and receivers coach Nate Carroll was born in Edina.
Vikings running backs coach Kennedy Polamalu (2000-03) worked with Seahawks Head Coach Pete Carroll (2001-09) and Offensive Coordinator Brian Schottenheimer (2000) at USC.
Minnesota defensive line coach Andre Patterson was a defensive assistant with the Patriots in 1997 when Carroll was New England's head coach.
Vikings assistant special teams coach Ryan Ficken worked with Seahawks Special Teams Coordinator Brian Schneider from 2003-05 at UCLA.
Vikings RB Ameer Abdullah and T Riley Reiff teamed with Seahawks DE Ziggy Ansah and FB Nick Bellore at Detroit.
Minnesota G Dakota Dozier and Offensive Line Coach/Run Game Coordinator Rick Dennison were with the Jets along with Seattle K Jason Myers, Bellore and QB Geno Smith.
Vikings T Rashod Hill and Smith overlapped in Jacksonville in 2016.
Vikings Assistant Head Coach/Senior Offensive Advisor Gary Kubiak, Dennison and tight ends coach Brian Pariani overlapped with Seahawks T Duane Brown in Houston.
Minnesota Defensive Coordinator George Edwards and Special Teams Coordinator Marwan Maalouf overlapped with Seattle CB Neiko Thorpe in Miami.
Vikings P Britton Colquitt teamed with Thorpe in Cleveland.
Vikings T Aviante Collins with Seahawks C Joey Hunt and L.J. Collier at TCU
Minnesota WR Stefon Diggs and Seattle DT Quinton Jefferson at Maryland
Vikings CBs Kris Boyd and Holton Hill with Seahawks P Michael Dickson and DT Poona Ford
Minnesota CB Mike Hughes and Seattle LB Shaquem Griffin at UCF
Vikings LB Ben Gedeon and Seahawks SS Lano Hill at Michigan
Minnesota G Pat Elflein and DT Jalyn Holmes at Ohio State with Seattle T Jamarco Jones
VIKINGS TOP PERFORMERS VS. SEAHAWKS
Dalvin Cook: 1 game (1 start), 13 rushes, 55 yards; 5 receptions for 28 yards and a TD
Kirk Cousins: 3 games (3 starts), 62-of-100 passing, 738 yards, 3 TD, 0 INT, 94.5 passer rating
Eric Kendricks: 3 games (3 starts), 22 tackles (league stats), INT, 3 PD
Trae Waynes: 2 games (did not start), INT, 2 PD
VIKINGS BIG DAYS VS. SEAHAWKS
Kirk Cousins (with Washington): 21-of-31 passing for 247 yards; led a game-winning touchdown drive in four plays for a 17-14 victory at Seattle on Nov. 5, 2017
Dalvin Cook: caught second career touchdown pass at Seattle on Dec. 10, 2018
Trae Waynes: intercepted Russell Wilson in the Wild Card game hosted by Minnesota on Jan. 10, 2016
Everson Griffen: 6 tackles, 1.0 sack, 4 QB hits in the Wild Card game hosted by Minnesota on Jan. 10, 2016
VIKINGS-SEAHAWKS SERIES NOTES
1. Sunday's game will be the 17th meeting in the regular season or playoffs between Minnesota and Seattle. The Seahawks are 11-5 in the series overall thanks to a five-game win streak.
2. The franchises first met in 1976, which was Seattle's first season in the NFL as a member of the AFC. The Seahawks moved to the NFC in 2002 when the NFL realigned teams into its current structure of eight, four-team divisions.
3. Seattle's first head coach in franchise history was Jack Patera, who was Minnesota's defensive line coach from 1969-75 under Head Coach Bud Grant.
Longest Vikings winning streak in series: 2 games (Oct. 22, 2006 through Nov. 22, 2009)
Longest Vikings losing streak in series: 5 games (since Nov. 4, 2012, including one postseason game)
https://www.vikings.com/news/game-preview-vikings-at-seahawks-2019