Looking back at Noah Fant's rookie year
2 min read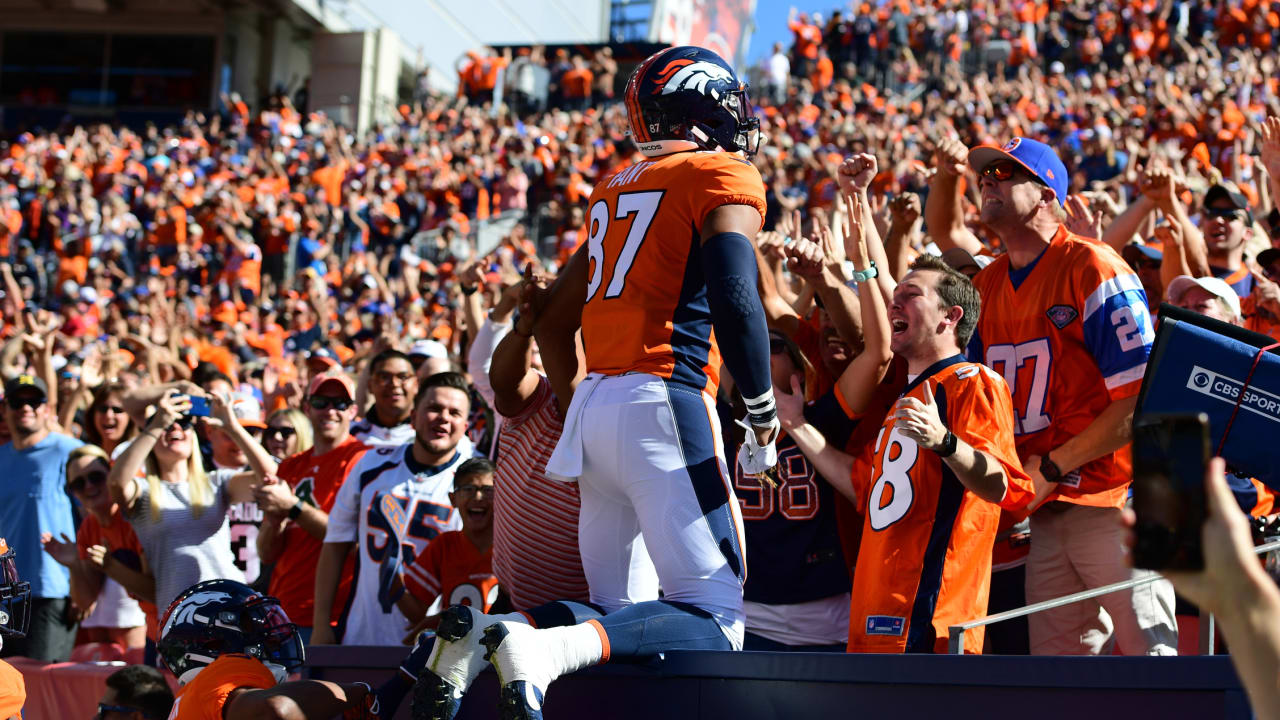 The Broncos were rewarded, as Fant followed his slow start to the season with a pair of 100-yard games down the stretch. Only two tight ends in NFL history recorded more 100-yard receiving games as rookies. 
In a Week 9 game against the Browns, Fant again showed his big-play ability as caught a pass on a crossing pattern, turned upfield and broke three tackles as he sprinted away for a 75-yard touchdown. The play was the fifth-longest reception by a rookie tight end since the 1970 NFL merger.
He finished the game with three catches for 115 yards and a touchdown.
Five weeks later, Fant was Drew Lock's favorite target in a 38-24 win over the Texans, who won the AFC South and advanced to the divisional round of the playoffs.
On the Broncos' first play from scrimmage, Fant fended off a defender and turned a routine comeback route into a 48-yard gain. On the same drive, Fant caught a 14-yard third-down pass for a touchdown.
The 6-foot-4, 249-pound player's combination of size and athleticism made him a mismatch against the Texans — and many of the Broncos' other opponents.
Fant finished the season with the most catches and receiving yards by a rookie tight end in Denver's history, as he caught 40 passes for 562 yards and three touchdowns. He also showed a knack for moving the chains; twenty-three of those catches resulted in first downs. Fant was also available, as he appeared in all 16 games and caught at least one pass each week.
"I'm my biggest critic," Fant said after the win over Cleveland. "I hold myself to a very high standard and it's nice to have that rookie record, but I'm trying to attain a lot bigger goals and try to do a lot better. It's always good to attain certain milestones like that, but I'm looking to keep pushing forward."
While Fant didn't have the same fast start as Hockenson, he finished the 2019 season as the top rookie tight end in targets, receptions and receiving yards. His three touchdowns ranked second to Oakland's Foster Moreau.
Fant also fared well in comparison to tight ends league-wide, including veterans. Fant's 14.1 yards per catch ranked second among all tight ends with at least two catches per game played.
As for Scangarello's comparison to Kittle? That remains to be seen.
The 49ers' All-Pro tight end caught 43 passes for 515 yards and two touchdowns during his rookie season in 2017. He followed up that campaign with 88 catches for 1,377 yards and five touchdowns in 2018 and 85 catches for 1,053 yards and five touchdowns in 2019.
If Fant is indeed following Kittle's path, the 2020 season can't arrive soon enough.
https://www.denverbroncos.com/news/he-just-brings-so-much-good-to-the-table-looking-back-at-noah-fant-s-rookie-year