Rookie Moments For Kyler Murray Derail Cardinals'…
3 min read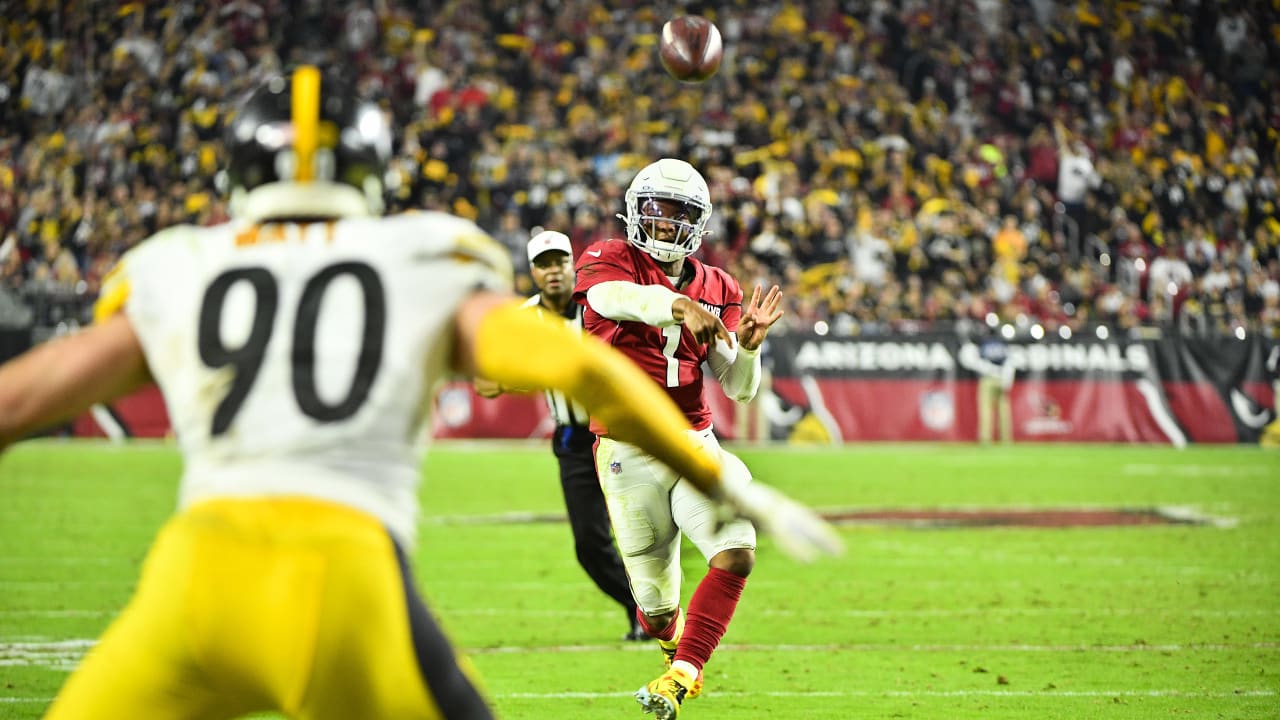 "I thought he played well at times," coach Kliff Kingsbury said. "That's a good defense. The two interceptions are fixable plays, and two (of the three) on fourth down, those happen. Trying to make a play and not take a sack. But we can be better. I can call a better game, offensively we can execute at a higher level. I thought (Kyler) competed well."
The Cardinals, who have lost six straight, played much better than the previous week's loss to the Rams. There was a slow start – the Cards were down, 10-0, after a quarter and surrendered an 85-yard punt return for a score to Steelers rookie wide receiver Diontae Johnson – but Murray helped usher in a rally.
The Steelers (8-5), winners of seven of the last eight, didn't do anything exotic. They ran the ball – 140 yards, to mixed success – and their own rookie quarterback, Devlin Hodges, played mostly mistake-free.
Hodges finished 16-for-19 passing, for 152 yards, one dart of a TD pass to Johnson, and no interceptions.
How Hodges' career unfolds will be something to watch in Pittsburgh, but the spotlight isn't leaving Murray, who completed 20-of-30 for 194 yards. His two TD passes give him 16 on the season, the most ever by a rookie in franchise history.
But the Steelers' defense also was able to clamp down on Murray's running option, holding him to two yards on six carries and never letting him loose.
Larry Fitzgerald said the other players could only "be consistent" for Murray.
"There's nothing I can say to him," Fitzgerald said. "I don't know what his reads are, what his progressions are. That's not what I do. When he's under duress and he needs somebody to make a play for him, guys have to step up and make that play."
The Steelers made some mistakes. There was a fake punt, on the drive following Murray's end-zone interception, when punter Jordan Berry inexplicably tried to run on fourth-and-6 at the Pittsburgh 40 and was buried by Cardinals tight end Darrell Daniels. Berry fumbled, linebacker Dennis Gardeck recovered, and the Murray-Johnson TD came soon after.
Steelers coach Mike Tomlin said he called the fake punt and "I assume responsibility." Berry said the play was called, then called off except he did not get the new call.
There was also a pass thrown with less than two minutes left in the game and the Cards down a timeout, meaning it saved the Cardinals an extra 30 seconds on the clock at least after the Steelers kicked a field goal with 1:42 left.
That chance to steal the game didn't last long.
Murray was sacked for a loss of five yards on first down, dropped the ball while scrambling on second down before picking it up and getting sacked, and then threw an incompletion. His fourth-down heave while running from pressure was intercepted by Haden.
"That first play, obviously you can't take sacks but trying to make a play," Murray said. "From there, it kind of went downhill."
It was a better performance than against the Rams. It wasn't as good as he's had. Murray and the Cardinals know they have a good future together – although that was a difficult subject in the minutes after another loss.
"I'm kind of living in the now, so it's tough," Murray said. "I always feel good about where we are going, very optimistic about where we are going. It obviously sucks right now and I think we should've won today. But it is what it is, and you've got to move forward."
https://www.azcardinals.com/news/cardinals-lose-to-steelers-as-kyler-murray-up-and-down